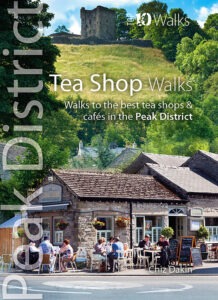 Really happy to announce that My Top 10 Walks to Tea Shops in the Peak District book has just been published by Northern Eye.
This is the third book in the series that I have written (or for the "Best of the Peak District" book, contributed to the writing of) for them, although some of my images have appeared in other books they've published.
I really enjoyed seeking out some new places and little known paths for this book as well as many old favourites. And of course, testing out the cafes was a thoroughly enjoyable task!
There are cafes in lesser known spots such as New Mills and Bamford as well as more popular places such as Castleton and Edale,
If you like this book, you may also like my Walks to Peak District Viewpoints book.
During Coronavirus restrictions the book is best bought from your local outdoor shop/cafe/Peak District visitor centre/bookshop or direct from Northern Eye (the publishers) until outdoor shops and cafes can reopen for trade once more.