August 2019: Whaley Bridge/Toddbrook Dam damage
The Toddbrook dam was severely damaged by floodwater after very heavy rain early in August 2019 and threatened to collapse with extreme risk to life if it had failed. TdPD and other routes in the Cycling in the Peak District guidebook are thought to be unaffected as a result of this incident, but as ever if you come across something on the ground, please let my publishers at Cicerone Press know. Dam repairs may take up to 3 years to complete, so it may be worth paying attention to Derbyshire roadworks info in case roads have to be shut during this time to facilitate repairs.
The Tour de Peak District (TdPD) Route is a challenging three to five day cycle route, which roughly follows the boundaries of the Peak District National Park. The TdPD originated from the casual observation that the defined eastern boundary of the Peak District happens to follow some delightful quiet roads in very scenic but less well-known areas – and so the idea of turning the Peak District boundary into a circular route was born. Enter a 250km (155-mile) multi-day challenge that takes 'the nearest nice line to the Peak District National Park boundary".
It is a challenge though – particularly on Day Three – and not a gentle route in every part, so if you're new to cycling it's best saved until you've got a reasonable amount of experience under your wheels!
There are now two variations of the TdPD route – the main route has some lovely (and occasionally quite challenging!) off-road sections in it. And a road variant which avoids off-road sections, but tackles some more urban roads on the western boundary. Other than day three, where the routes diverge more widely, most of the road alternatives are quite short, and you can choose whether or not to take each one as it comes – according to your preference for terrain, and the capabilities of your bike.
The TdPD is a pleasant multi-day cycling challenge that anyone with moderate fitness and reasonable cycling ability can achieve, but those new to cycling are well advised to tackle a number of easier and shorter routes before working up to this route – ideally with at least a single overnight trip beforehand to work out what (isn't!) needed on a multi-day trip!
Also, do note, a few of the off-road sections – particularly on Day Three – are quite challenging and are entering into the easier realms of mountain biking territory. There's a few introductory challenges on Bobus Moor, and a tougher section from Carrbrook over Lees Hill and down to cross the Ogden Brook. But none of the really challenging off-road sections are individually very long.
Likewise on Day Three the road version does venture more onto busy or fast A roads and is often in more urban terrain particularly on the Standedge cutting and around Stalybridge to Broadbottom – there simply isn't a better alternative at present.
Distance: 255km (150 miles)
Total Ascent/Descent: 6200m
Recommended Duration (either main or road route):
Moderately fit person with good off-road cycling experience/ability to handle A road alternatives: 5days (roughly 50km/30miles a day)
Regular and committed cyclists: 3-4 days (roughly 80km/50miles a day)
Superfit enduro types: your challenge is to do it in 24hrs (Is this possible? I don't know, but I'm not an ultra-fit enduro-type – that's why it's your challenge!).
If using an ultralight performance "best" road bike, please note the road version does use some sustrans trails – you may need to detour onto busier roads of your own choosing if this is not to your liking.
Recommended access points/Overnight stops:
Matlock (access point and overnight stop)
Dungworth (overnight stop 5 dayer)
Marsden (access point and overnight stop 3 or 5 dayer)
New Mills (access point and overnight stop MAIN route 3 or 5 dayer)
Whaley Bridge (access point and overnight stop ROAD route 3 or 5 dayer)
Macclesfield (access point and overnight stop 3 dayer)
Blackshaw Moor (nr Leek) or Waterhouses (overnight stop 5 dayer)
Click here for a map showing potential refreshment stops along the route.
Or here for a map showing accommodation along the route.
Prefer to ride in an organised group? Our official route guide partner for the Tour de Peak District is PeakCyclingUK who now offer four-day guided tours along the route. I'll let Paul from PeakCyclingUK tell you what they offer:
"We run guided tours around the fantastic Tour de Peak District, leading you on the road and trail, supporting your needs with a brew van and regular stops, include a proper cafe lunch and move all your stuff for you. We are qualified British Cycling Level 3 Leaders, experienced in taking groups out on road, gravel and MTBs, and know the Peak District really well. Please take a look at our website for prices and details of the next trip"

Paul Gant, Peak Cycling UK
The route
The route is described in full in Chiz Dakin's Cycling in the Peak District guidebook (published by Cicerone Press).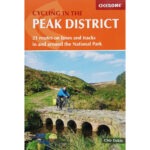 It should be noted, the route does not stick absolutely religiously to the boundaries of the national park. In some cases there is no permissible path for cyclists along the boundary, in which case the nearest "nicest available" route is taken. In other cases, where a more pleasant off-road route or quiet country lane exists near to one running along the boundary, the nicer route is also used. And the route cuts across the gap created by the exclusion of Buxton from the national park.
Purists may disagree with these choices, but they are welcome to devise their own variation!
Chiz Dakin is a member of the Gritstone Publishing Co-operative – a co-op set up to help authors join forces in marketing their work. The link above takes you to Gritstone's website – and if you use this link to buy a copy, Chiz Dakin gets a bit more commission which helps her research and write the next guidebook 🙂