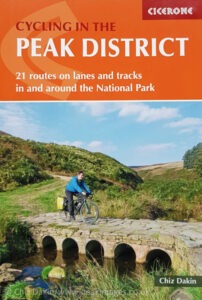 Cycling in the Peak District (2nd edition) is my newly updated guidebook covering moderately easy to moderately energetic routes in the Peak District.
There's 20 half and full day routes ranging between 15 and 65km long (8-40 miles) with a finale 21st route of a multi-day "Tour de Peak District" which surprisingly 😉 circumnavigates the entire Peak District.
The whole of the Peak District is covered, from Ashbourne to Marsden and Macclesfield to Chesterfield, and the routes are graded easy, moderate and hard.
The routes in the book are intended for anyone of average fitness or better. It is not a technical mountain-biking guidebook – there are plenty of those already out there – nor is it a leaflet describing the many totally car-free, out-and-back family-friendly trails. Instead, this guidebook is intended to fill the gap between these two – using many of the region's quiet lanes, bridleways, byways and ancient paths. Riders will need traffic sense, as the routes do use the open road, but most of the routes are suitable for families with older children who have mastered the rules of the road sufficiently to be safe in traffic.
There are road versions described for off-road sections of all routes graded moderate or above (including the Tour de Peak District)
The routes have been subjectively graded Easy, Moderate and Hard. But everyone has different opinions about what makes a route hard: is it the length of the route, or the steepness of any uphills? Perhaps it's the combined number of hills in a route, or the terrain under wheel? Perhaps it's the inclusion of an A-road – whatever its nature – or the steepness of any descents? So to keep things clear and straightforward I have adopted the following approach.
Easy routes should be relatively short (no more than 25km/15miles), not overly steep and should not climb one hill after another (cumulative ascent no more than 400m). They shouldn't use A-roads at all (although they may have to cross them). Their terrain should be suitable for anyone who has never ridden off-road before, and they will use trail-type surfaces as much as possible.
Moderate routes can be longer than Easy Routes (they range from 18-50km/11-35miles), have steeper but not extremely steep ascents and more hills in general (ideally less than 1000m total ascent over the route); they may also have steep downhills. They may tackle busier roads, where needed, to join up parts of a good circular route, and will encounter rougher terrain – expect some mud, loose stones, lumpy but solid surfaces or sandy patches. These rough sections will never last too long, and (in dry conditions!) the rough sections should not be unrideable to someone who has limited experience of off-road riding on surfaces other than easy-going trails.
Hard routes tend to be the longer routes in the book (ranging from 35-65km/22-40 miles) and rarely have less than 1000m of ascent over the route as a whole. (The Peak District is a hilly place!) But although they edge towards mountain-biking in places, they are never out-and-out technical off-road challenges, although they may contain very short sections which some cyclists will consider unrideable.
Tour de Peak District. This route deserves a category of its own. Although no individual stage is tougher than a 'hard' route, some short sections may be quite technical. But in particular riders should not underestimate the cumulative effect of fatigue on a multi-day route, especially  if they have never attempted one!. It is recommended that riders have ridden the equivalent of all the moderate and hard routes in the guidebook before attempting such a route. At the other end of the scale, keen and experienced riders will probably wish to compress this route into a three or four day challenge.
To order this book please use the link below (Chiz Dakin gets a small amount of commission via this which tops up the very small publishers commission) and that helps her research and write the next guidebook 🙂
Paperback version: Cycling in the Peak District
Kindle version: Cycling in the Peak District
Further cycling information on this site includes:
Refreshment stops on the Tour de Peak District
Cycle Hire in the Peak District
Coast to Coast routes in Northern England
Family Friendly trails in East Midlands
Reviews:
Seven Day Cyclist: "By the way, the advice on crossing the ford at Bradbourne is excellent. Narrow road tyres are best kept for the bridge, in my opinion – so speaks the voice of experience!" and "​​With routes ranging from 8 miles to the full tour – and a variety of options, this guide will take you somewhere new – even if you have climbed many Peak District hills already. Many of the tours can be combined. So, come autumn, I shall be stuffing this guide into my jersey pocket and heading over Axe Edge to enjoy even more of an area I thought I knew."