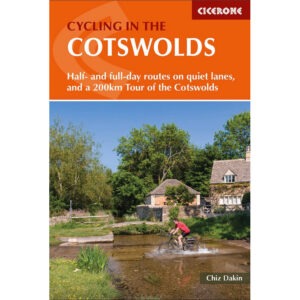 Cotswolds Cycling: Leisurely or strenuous, road or off-road, it's up to you!

The Cotswolds is home to pretty honey-hued stone villages set in a landscape of rolling countryside. The dramatic 100-mile limestone escarpment offers breathtaking views, while the network of quiet lanes, cycle-friendly canal paths, tracks and bridleways is perfect for exploration on a bicycle.
Perfect for gravel bikes, also suitable for hybrid or mountain bikes. The routes are graded from easy through to challenging, with information on surface, distance and ascent as well as those all-important en route cafés and pubs.
Road and off-road alternatives.
Where the main cycle route described goes off-road, an on-road alternative is described for almost every ride. Some exciting (but technically quite easy) off-road sections are included for those with mountain biking skills.
Comprehensive lists of recommended gear and local cycle shops are included, as well as advice on repair, first aid and pre-ride checks.
This is your ideal guide to exploring the lanes and tracks of the Cotswolds AONB, whatever your level or skill or style of bike.
21 varied half and full-day routes across the AONB
exciting off-road sections for those with mountain biking skills
on-road alternatives for almost every off-road section of route
4-day (200km) tour taking in the highlights of the area
free GPX tracks for all routes when you buy the book (downloadable via Cicerone website)
To order this book please order via the Cicerone website.
PLEASE NOTE – ROUTE 10 (Batheaston) HAS AN IMPORTANT UPDATE:
Do NOT cross the A46. Do NOT attempt the original route.
(Please see the updates section of the Cicerone Website – scroll down on book page to reach Updates)
The Cicerone website has details of a revised route avoiding this crossing – it's got a much nicer downhill section at the end too!

(At the time of original research the original route had sufficient quiet gaps in busy traffic to be viable but that is no longer the case – even to use the grass verges and cross on foot would now be extremely challenging.)

We do NOT recommend the original route any longer.
Cycling in the Cotswolds: 21 Routes in and Around the AONB (Cicerone Guides)