Welcome to the cycling section of my website! This contains links to route information, accommodation or refreshments info for cyclists in the Peak District or Cotswolds or rest of UK.
The best way to get to individual sections of the Cycling part of my website is to click on the relevant link under "Cycling" in the drop-down menu at the top of the page. Alternatively this page has some quick links to some of the most visited pages/posts within the section.
Cycling Related Blog Posts
Cycling related blog posts happen on a bit of an intermittent basis, but I intend in 2019 to put more time into creating more of these.
Coast to Coast Cycling Routes
A list of signed coast to coast routes can be found on the Coast to Coast Cycling routes page.
Family friendly cycling in Peak District and Derbyshire
A list of rail trails and other family-friendly easy-going off-road routes in the Derbyshire/Peak District area can be found on the family friendly cycling page.
Tour de Peak District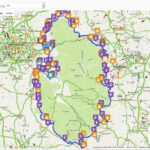 The Tour de Peak District is my flagship route. Originally designed as the multiday finale to complement a series of half and whole day routes for my cycling guidebook to the Peak District, this has taken on a life of its own.
And so has a section dedicated to it on my site – including maps of all known refreshment stops, accommodation listings (coming soon).
Other maps
More general maps of walking and cycling friendly cafes and cycle hire establishments across the Peak District and The Cotswolds – which I try to keep as up to date as possible, but if you spot any that are no longer trading, or know of new ones I've not listed, please do contact me with details!
Cycling Guidebooks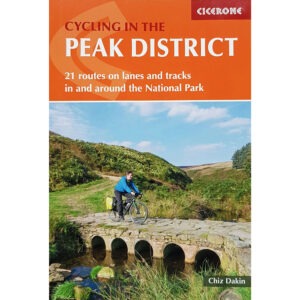 I have two cycling guidebooks in print – both for Cicerone Press. One is on the Peak District, the other on the Cotswolds. They're full of half-day and full day routes which are neither technical mountain biking (ie I hate walking with my bike, so I assume you will too and try really hard to avoid seriously technical sections appearing in the books – unless it's so short that it would be a real shame to lose an otherwise excellent route!) nor full of two mile routes "up to the teashop and back along a flat easy-going trail".
Instead it offers something in between that is hopefully of greater appeal to the majority of folks who ride a bike – however occasionally or keenly. And there's a good multiday route at the end for more experienced riders (or as a challenge for those that have worked their way up through the easier routes). Signed copies of both can be purchased through Gritstone Publishing – a writers co-operative society that I am proud to be a founder member of.
Why are Cycling and Walking on a Photography Website?
Simple answer – it's not solely a photography website any longer! The Peak Images business expanded a good while ago now, from just pure landscape photography into all sorts of outdoors photography (including travel, adventure sports, wildlife) then also into writing and occasionally moving images such as timelapse and video-making. In fact these days it would be fair to say that I'm more of an outdoors writer that can do professional photography, than a photographer who specialises in the outdoors.
(And the blog of this website is no longer a "photography blog" in the slightest, but an outdoors blog with occasional professional photos. For my pro photos please see my galleries).
My main writing subjects tend to be walking and cycling, with two cycling guidebooks and one walking one already on the shelves and another walking guidebook in the publisher's production line. I've also contributed to three further walking guidebooks in collaboration with other outdoor writers with plans for further books in the development stage.
Future expansion of cycling and walking on this website
I also intend that this section of the website will expand to include gear reviews, route ideas and general cycling/walking thoughts – but I need a little more free time in the office than I've currently got!