Travelling by public transport with a bike should make perfect sense – let the train take the strain on the way to your destination, then have bike all ready to explore the area with when you get there. But all too often, the train station isn't where you want to be, or requires you to ride along busy main roads to get nearer to where you want to be. And as for trying to take your bike on a bus…! Forget it!
In the Peak District, the train stations are all around the edge of the National Park, meaning those that prefer shorter rides within the park can be forced into having to drive their bikes to the start of the ride. Well, that is, until now.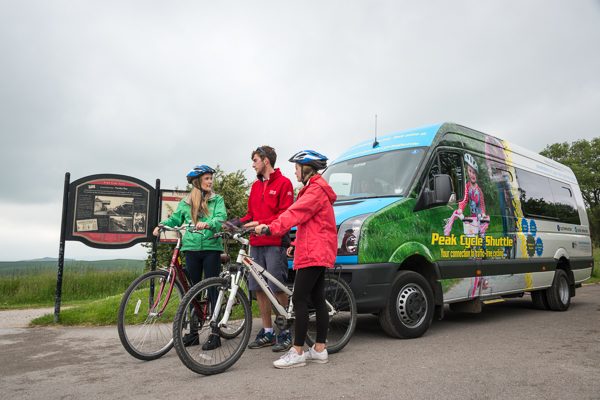 A new minibus service, The Peak Cycle Shuttle, has just been launched, offering a safe and comfortable link between the railway stations at Matlock and Buxton. It can carry passengers and their bikes, and a driver assists with loading.
Connecting with trains
The Peak Cycle Shuttle service is designed to connect with the train timetable for arrivals and departures. Different routes are run on different days (see Shuttle Calendar), but give at least 4 hours between drop off and pickup – plenty of time for a leisurely ride along one of the Peak District's fantastic rail trails. The shuttle carries up to 8 people and their bikes, and operates Wednesday to Sunday until end October 2015. Tickets start from £7 return (adult) or £3.50 (child under 14).
Where to go?
If you wish to avoid cycling on the roads, the Peak Cycle Shuttle gives access to some of the great "rail trail" traffic-free cycling routes in the Peak District:
High Peak Trail: a 17-mile route along the former High Peak Railway route between Cromford and Dowlow. Big skies and expansive views across to the Staffordshire moorlands.
The shuttle connects Matlock to Middleton Top, or Buxton to Parsley Hay.
Monsal Trail: 8.5-mile route between Bakewell and Wyedale, once part of the Derby to Manchester Railway, passing through six railway tunnels.
A great option for families, the shuttle connects Matlock to Bakewell, or Buxton to Wyedale.
Tissington Trail: 13-mile route from Parsley Hay to Ashbourne that once formed the Ashbourne branch of the High Peak Railway. Passes through the estate village of Tissington and ends in Ashbourne, home of the famous Shrovetide football match.
The shuttle connects Matlock or Buxton to Parsley Hay.
Need to hire a bike?
The Peak Cycle Shuttle also takes passengers from Matlock and Buxton to the cycle hire centres at:
Parsley Hay, (for High Peak/Tissington trails)
Fairholmes in the Upper Derwent Valley (Ladybower, Derwent and Howden reservoir trails).
Cycle hire prices start from £13 (adult) or £9 (child) with a 10% discount for those arriving on the shuttle.
Booking in advance is essential – places are limited! To book visit https://peakdistrict.cinolla.com/cycleshuttle.