I always like getting gear to test that involves playing with water! And having just acquired a stormproof SLR pouch from the nice folks at Aquapac, it clearly had to be water-tested – despite the unseasonably warm and sunny day outside.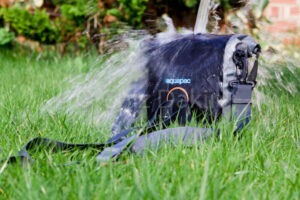 Initial thoughts on the bag are that it's solidly constructed out of tough waterproof fabric, with a good roll-top closure. It's a tad snug on my hefty Canon 5D Mk2, but it fits well, and leaves room for a grey grad filter alongside, and memory cards in the zipped insert on top of the camera. The padding feels good too – should absorb a few moderately hefty knocks – but that's not something I'm going to test intentionally without a replacement camera on offer! The whole interior actually lifts out of the outer bag, enabling lighterweight hanging when drying the outer waterproof layer (or even if the interior gets wet!), for example while washing mud of the exterior.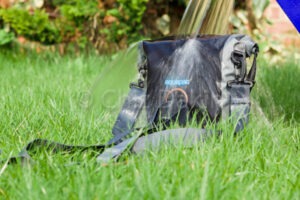 The side-fastening closure straps are a bit odd to anyone used to a zip or single strap on a more conventional camera pouch, but make sense for keeping water out, and I seemed to get used to them fairly quickly. It has to be said though that they are a bit slower than conventional openings.
The size of the pouch as well may feel a bit large to users of smaller dSLRs or 4/3rds or SLT systems, but is a fair amount smaller than my 5mk2's previous home – which is welcome news. The shoulder strap enables the pouch to be slung comfortably diagonally over one arm to nestle in the small of the back, and the waist strap seems like it should do a good job of keeping it there on bouncier trips – such as mountain biking or even running (if you can bear the weight of an dSLR!)
So it was now time for the fun bit! Out into the back garden, remove camera, stuff full of tissues (they'll show up any leakage pretty quick!), then fill up a big blue bucket of water.
Having placed camera and tripod a suitable distance away from the splash zone, it was time to pour water over the camera pouch, gently at first, then increasing to a torrential deluge. Inspecting inside after each go showed no leakage at all – quite remarkable given the drenching it had been put through, and under short but excessively heavy waterflow (akin to passing under a waterfall really) it clearly does it's job very well.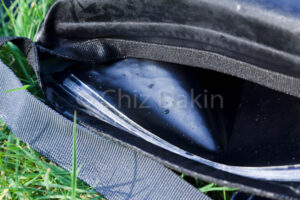 Now for a harder test. It's always been said that roll-top closures don't survive submersion too well – would this one be any different? Aquapac claim it floats on the surface (didn't test this with camera in, but it was extremely buoyant without), and this would certainly help resist water ingress in a short-lived dunking. Pushing hard on the pouch to submerge it fully, large airbubbles immediately gave the game away that it might not be totally safe for your camera to capsize in it. But opening up the pouch after a good few seconds underwater showed that while water had leaked in, it was far from rapid, and that a quick retrieval might mean your beloved dSLR could survive a brief dunking.
At RRP of £55 it's not the cheapest pouch out there, but it may well be one of the toughest! It's now time to give this pouch a longer term test in real-life conditions – I'll report back in some months as to how it fares.