Remember Canon's G6 high-end compact camera way back in the early years of the Noughties and it's innovative flip and swivel viewfinder? And just how useful that was for framing awkward shots where the camera would otherwise be pressed into a riverbank, hedge, building, tree? And then the G7 came out, and it seemed that was it for Canon's brief foray into the world of easy-angled viewfinders. Never mind the howls of protest from those that had enjoyed the G6's ability to frame shots in awkward places without having to guess and review to get the angle right, this wasn't to be seen on another G series camera since. Fast forward a few years and Sony's a33 and a55 have just pipped them to the post in the dSLR flip and swivel viewfinder race; despite that Canon's new 60D still looks an interesting addition to the range.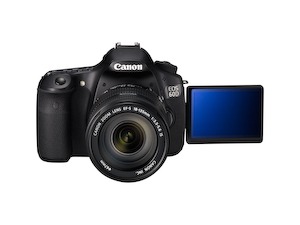 So what does this new addition have to offer? First things first, it's not a direct replacement for the 50D. Since the 50D came out, the 7D was introduced as a "semi-pro" addition to the range, and many wondered what that meant for the xxD range as it retails for a similar figure to the 50/60D. Well, it seems that despite the addition of the novel flip and swivel viewfinder, and some "trickle-down" features from the 7D, such as the iFCL metering technology and expanded ISO range, the 60D has been positioned a little bit down-market from it's predecessor 50D.
Key features and benefits of Canon's 60D – the expected features
Certain things are really just expected in this camera:
the DIGIC 4 processor is the current Canon standard available in the range from 550D upwards, although the single processor of both 550D and 60D is beaten by the 7D's dual processor – which may be part of the reason the 7D wins on frame rate.
ISO range from 100-6400 (expandable to 12800). Again, especially with the DIGIC 4 processor, this is almost the benchmark expected of any new entrant into the mid-range camera body market.
full HD video. Almost standard on dSLRs these days, it would be surprising if Canon hadn't included this.
18MP CMOS sensor
LP-EP6 battery – so those upgrading from the 50D or lower-spec cameras will also have to upgrade their spare batteries, but at least it uses the same battery as the 7D or 5mk2.
The 9AF points may seem a tad miserly to some, given that this is no improvement over the 550D, but the addition of a more accurate focal point in the centre is a slight improvement over the 550D. (Though it begs the question why all the focal points can't be made more accurate! No doubt there is some boring technical reason why, but Canon – the central AF point isn't always the one you need to AF most accurately on, especially when using AI-servo mode!) Will the 7Dmk2 (or whatever it's called) bring enhanced AF to all points…? Only time will tell!
Key features and benefits of Canon's 60D – the new features
the fully-articulated electronic viewfinder. This is definitely one of the key selling points of the new 60D, and is discussed throughout this review.
Additional on-top LCD panel for shooting data – combined with the swivel-viewfinder, this is a great addition for when the camera is in an awkward spot that leaves no room for the eye to be pressed up against the normal viewfinder. Using the swivel viewfinder allows easy composition, using the on-top LCD panel enables the photographer to check that they've set the required aperture, shutter speed, ISO etc
Ability to rate images in-camera, and have those ratings pulled through to Lightroom etc on download of the images. This little-trumped new feature is actually a major bonus for travel or wildlife photographers who shoot in raw. Raw images are much faster to load in-camera than in processing software – particularly zoomed in. This new rating feature enables serious photographers first to weed out the real duds, then zoom in to rate the rest on sharpness and basic composition. To be able to do this in-camera is a major plus – saving time over "normal" on-computer editing and rating, and allowing you to review the images before having access to a computer for downloading them (eg when travelling)
Integrated speedlight transmitter – this enables wifi control of speedlight flashguns without the need to purchase a separate wifi transmitter as on the 7D (which introduced this feature). I was initially a little surprised about the inclusion of this, thinking that users of the 60D (who don't also have either a 1series camera, a 7D or a 5mk2), will not want to buy several speedlights to make this a worthwhile feature? But with a bit more thought, it means you can place a single speedlight well away from the camera and fire it as if you had the expensive wireless remote controller – without having to purchase the separate controller. So yes, this is a useful feature and for some will be the justification along for upgrading to the 60D from a 50D or 550D.
iFCL metering system – it's good to see this enhanced metering system has trickled down from the 7D where it was introduced.
Plastic body rather than aluminium – this befits the general slight down-market move of this camera body in the range as a whole. Providing less protection from general use and abuse, it does have the advantage of shaving off a few grams of weight, which some users will feel outweighs the lesser durability.
In-camera Raw processing – this one's an interesting development, and I have to say I'm in two minds about it. It's something I'd really want to get my hands on the camera for to test out how it works in practice, before committing myself either way. However, my guess is that it's perfect for those just getting into post-processing of RAW images, but aren't yet convinced of the benefits enough to spend money on powerful RAW processing software (such as Lightroom). But as the software supplied by Canon with the camera will do basic raw conversion, then in reality there seems little need to do this in-camera. What do you think – is it a good move or not? Is there a need for it? And if so, why would you favour it over processing on a computer?
Fluffy-pet modes (Basic+ "creative" settings) and toy-camera effects – Canon's definitely made a down-market move here then! OK, I admit to a bias here – I hate them!! Though actually its interesting to see these on a dSLR camera, where they have more of a chance to really make a difference than the compact cameras you tend to see them on. Again I'm slightly in two minds here… From a professional photographer's point of view I can't help feeling it's a greater dumbing-down of the process of getting more creative images (on a camera which is expensive enough to warrant making the effort to learn how to take control of it properly), but I can also see their uses as an intermediate step for those learning how to get more creative images than those acquired with just the fully-automatic settings.
Key features and benefits of Canon's 60D – those that I'd have like to have seen included that weren't
It's a shame that AF micro-adjustments don't appear to be enabled on this body – that's a very useful function on the 5Mk2, and enables lenses at the edge of Canon's "acceptable specification" to be made significantly sharper if you don't end up with the best copy of the lens.
Canon's 60D – overall conclusion
With Sony's recent a33 and a55, and the multitude of mirror-less interchangeable lens cameras entering the market, the competition for the mid-range dSLR market is hotting up. Canon's 60D is a worthy entrant, and among its new features, the fully-articulated electronic viewfinder is clearly one of it's unique benefits.
Is it worth spending the extra cash over the 550D? Probably, if you want the swivel viewfinder, integrated wifi flash controller, ability to shoot HD movies or are a travel photographer who likes the ability to assign ratings to your shots in-camera.
Is it worth paying a tad more for the 7D? Wildlife and sports photographers will probably think so for the better AF (the 7D has 19 AF points compared to the 60D's 9) and frame rate (the 7D shoots at 8fps, max 126 large jpgs compared to the 60Ds 5.3fps, max 58 large jpgs).
This is the first of what I hope to be a new series of reviews on photography and outdoors gear. Please help support my time in creating these reviews by using the following links if this is a product you are seriously considering purchasing (I gain a small percentage of any purchases you make using this link at no extra cost to yourself – many thanks):