It's good to be back in the Alpujarras/Sierra Nevada region! And my first thoughts are on the climate – it doesn't know if it's winter or spring or summer!

Arriving at Malaga airport last night it was 16C – dropping to 8C by the time I reached Lanjaron, (now just 90mins up the nearly all-joinned-together motorway). And by 8am this morning it was 4C, and feeling very cold. Wonderfully clear sunrise as I left the village on the way into Granada to sort out a few things before the photography workshop starts tomorrow – shame I only got to see it through a bus window!

On the way, there were bare trees just coming into bud, rows of fruit trees (which looked rather like olive trees but turned out to be almonds – apparently it's olive harvesting time) coming into full blossom and oranges and lemon trees along the roadside with brightly coloured fruit that lookied very ripe and tempting. It seems quite strange to someone from the UK with our cold and wet winters, but apparently citrus fruit is a winter crop here – and ready for harvesting about now.

I've noticed this before, but it really feels like this part of Spain is on the wrong time zone – it takes quite a while to warm up in the morning, but by mid-afternoon it can be quite warm, and instead of cooling down from 3-4ish onwards, the temperature keeps rising! The daylight hours are a little skewed too – barely light at 7:30am, yet still twilight at 6:30pm – even in early Feburary.

Apparently the snowline is low for this time of year – they've just had a good big dump of fresh snow, so we'll see how things work out for getting into the hills later on in the trip. Fingers crossed!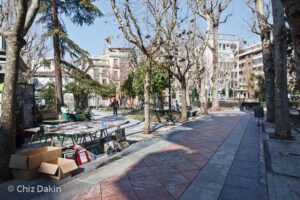 In the meantime, I went into Granada today to sort a few things out before the photo course tomorrow. And Granada itself is still a confusing place – partly due to all the roadworks going on with installing the new tram system. It's also worth remembering that it more or less shuts for the afternoon siesta – don't rely on anywhere being open after 1:30pm, although a few places stay open until 2pm. The major supermarkets, such as Al Campo (within 200m of the bus station) and Carrefour (beyond the Southern end of Calle Recogidas going out to the ring road) do stay open during siesta, but they're the rarity rather than the exception.
There are two mountain sports shops in town Intersport on Gran Via de Colon and Solo Aventura on Plaza de la Romanilla (between Plaza Trinidad and the Cathedral). Screw top gas canisters are E5.75 for 230mg or E11.50 for 450 at Solo Aventura.  Both shops shut during siesta. El Corte Ingles on Acera Del Darro may be suggested by well-meaning locals, but despite a better photography and sports section than the average UK department store, it's not really got a  mountaineering or even walking-oriented department. Al Campo is rather limited in it's choice of cereal bars for mountain snacks – on previous trips the Carrefour near the ring road has been much better stocked.
There are several plazas throughout Granada, which make a nice place to stop for a few minutes on a bench in the sun, especially if you've just found a gelateria like Via Lattea on Plaza Trinindad – where the ice cream is good value (E1.50 for a single cone scoop – cona simple – try the mora (blackberry) – it has real seeds in it!)
Getting to Granada from Lanjaron is also surprisingly slow without a car – it's only 45mins from Lanjaron by car, but by bus it's a very good idea to take the 8:00am (ish, nominally posted as 8:20am) bus in the morning, as there's then quite a gap til the next one. And as it takes 1-1.5hrs to get to the bus station, which then turns out to be 3km west of town(!), it's all too easy to waste an entire day and not even get there before siesta time. Assuming you have caught the early bus, once you get to the bus station it's then about 30-45 mins by bus 3 or 33 to Plaza Real (roughly the centre of town). Total cost isn't bad – E3.75 for Lanjaron to Granada one-way with Alsa (Alsina Graells) and E1.20 for each single bus fare within town. But overall it adds up to a bit more than 5 hours travelling to get there and back. Which means Orgiva may well be a better option (although it's still important to go in early to avoid the gap in the bus timetable!) from Lanjaron for those essential few items.
Photography course starts tomorrow – might take them to Lanjaron Castle to learn the basics of aperture – it's nearby, very pleasant and has a variety of subjects.