As lockdown eases and hot sunny days become more frequent, the temptation is to head out into the popular spots in the Peak District. But the problem with that is that if we all congregate on the most favoured spots, we're bound to increase the risk of a second spike in the dreaded Coronavirus.
So where to go on a sunny Bank Holiday? Not the Peak District today, that's for sure, I suspect there may be gridlock on a few roads and while there are some quieter spots, we're not up early enough today to make the most of getting to them.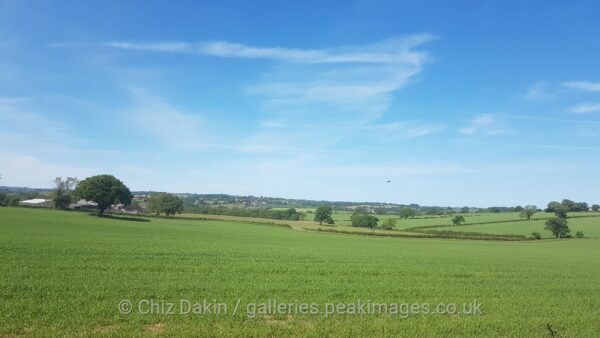 So instead we got out the map, and looked for an area outside the Peak District. Just south west of Derby there's an area with a good network of quiet, somewhat off the beaten track, country lanes with few larger villages/small towns. A route of roughly 20miles was quite easy to find – with a few alternatives to lengthen or shorten it as we felt on the way.
Some of the lanes are pretty narrow, a few have grass in the centre – always a good sign of lesser travelled lanes! – and the largest places we passed nearby was Etwall.
We did use 1km of rail trail near Etwall to save venturing on a busy main road, and that was predictably busier (but not at eg typical sunny weekend Monsal Trail levels) but otherwise we saw only a few other cyclists and walkers, and not a vast amount of traffic either.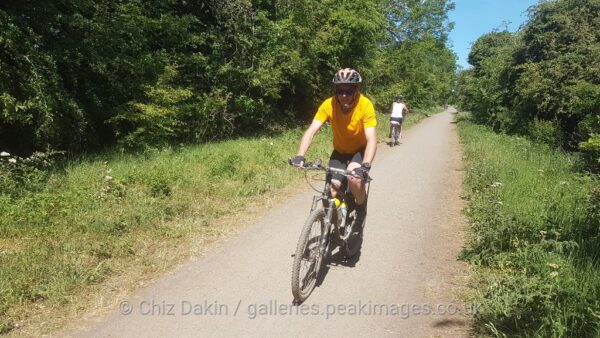 (Although the arrogant soandso who told my husband to get off the road so he could pass was not a pleasant encounter. Fortuantely such drivers are relatively few and far between. As it was a good downhill stretch of lane I didn't hear what my husband said in return, but I suspect if that driver had said the same to me he'd probably have got a much blunter response reminding him that cars and bikes have just as much right as each other to be on the road, and he should wait until there's a safe place to pass rather than assuming cars have right of way!)
But the few other drivers we met were all courteous and kind, and once again a DPD van stood out as a model of good driving behaviour to cyclists – passing wide and slow and only where it is safe to do so. So nice to see them altering the perception of "white van man" in our local region!
And although not havign quite such stunning views as the Peak District, the open fields are lovely in their own right. We saw buzzards, kestrels, some lovely orange poppies, white and red campion, buttercups and cow parsley by the thousands and what I think is stitchwort too. Should have stopped for pictures, but that isn't always easy to do on the bike and this ride was much needed exercise where I didn't want to break the flow.
Once back home – well it had to be time for an ice-cream in such warm weather. But I can't wait for cafes to open up again for that mid-ride snack!