It's not every day you get an email from a foreign embassy. And even less, that it's such a delightful message, announcing your nomination for an international writing award!

I'm seriously excited that the Slovenian Tourist Board has just nominated my article 'Hut to hut across the Slovenian Alps' for 'Article of the Year'.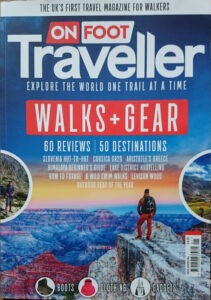 The article is from a trip I did to the Julian Alps last year – and covers the route we took to walk (and scramble, with via ferata) from the northern side of the Julian Alps, near Kranjska Gora, to the picture postcard village of Bohinj in the south.
We had some technical challenges with the terrain (we chose to do some challenging via feratas on the north, before the terrain becomes much gentler on the south) and weather (it snowed at height and had torrential downpours elsewhere on a few days), but the people, food and drink, scenery and huts were fantastic and somewhere I'd very happily return to!
To see the article in full – it's still the current issue of Active Traveller (On Foot) Magazine and can be bought from their website.