It's a milestone in a writer's early career – that first book launch. How will it go, will anyone buy the book, do they even want your signature? Today I found out. Arriving early at Buxton Pavilion, it was a gloriously sunny day, which was fortunate in a number of respects, not least as it seemed the planned covered area under the crescent wasn't available! So along with several other organisations, including another writer, Friends of the Peak District, and the National Forest, I found a spare table and set out my books.

I was feeling rather under-bannered and under-gazeboed – several others appeared to have known we were out in the open and had brought along all sorts of advertising banners and shelter from the sun (although one admitted his new gazebo was really in case of the rain which had been forecast earlier on in the week!) So I was very glad to have printed out some posters of the front cover – or my stand would have looked very bare!  Things started slowly, visitors were thin on the ground for a while, despite the antiques and food shows next door. But by the time the BBQ stall opposite had started wafting all sorts of unfairly tempting smells across the pavillion walkway, the crowds were well and truly out and enjoying the unseasonably warm weaather.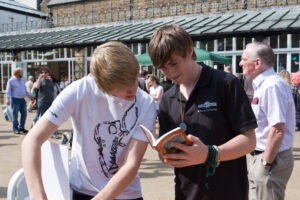 Visitors seemed to come in waves – sometimes very busy, then gaps of nothingness in between. The downside about being on my own on the stand was that it was nigh on impossible to go and visit the other stands and see who else was there, let alone give into the temptation over the walkway! But the upside was sales of books – including one owner of some holiday cottages near Ashbourne who bought one book for each of his cottages!
There were also some oddities and tough questions – the tough cyclists who just wanted to scrounge some free water off me (Buxton water were handing out slabs of water bottles, and most of us on the stands managed to acquired at least one!), the folks who wanted advice on where to buy a bike and how much to spend, the walker who thought I ought to be the authority on the opening dates of the Monsal tunnels, the guy who thought that cyclists should have to have mirrors by law, but really should be banned from the roads as it's not safe! (And yes, I wasn't backing down on my opinions on that one, just not sure I really convinced him, it was a very wide gap between our viewpoints!)
But the important point was that folks seemed interested in the book, and most who stopped by my stand bought one (sometimes more!) or discovered where to order from for their shop to resell them. A good day in the end then, although hard work!