When heading out backpacking for more than a quick overnight, getting the right sleeping mat can make a lot of difference between a cold or uncomfortable night awake and a good night's sleep.
I've used 4 different mats over several years – from the humble foam mat (in various guises) to the latest warm inflatable mat.
And each has it's own foibles and nice features.
The original – a foam mat (originally a Karrimat, but these days any generic rectangular foam mat)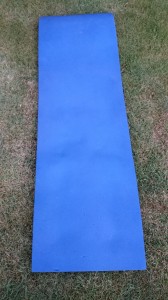 Pros: Can't be beaten for lightweightness, price and durability. Pretty warm for use on ice too.
Downsides: they're really bulky to carry, there's only a few places they'll stow (usually outside the pack) and they can all too easily be be ripped out of your hands in strong winds.
On trips where it's downsides aren't an issue, I sometimes use one as a second layer under an inflatable mat – usually if conditions are very cold, or there's likely to be sharp stones, thorns etc under the mat. Where bulk is an issue, but it's really cold, a half-or three-quarter length version can be a good addition for extra warmth with minimal bulk.
The lightweight inflateable (eg Thermarest classic.)
Pros: A good compromise between weight and warmth. Easy to inflate and deflate. Fairly low bulk, fits easily inside a ruckscak. Durable outer.
Downsides: Less easy to pack in its stuff sack. As with all inflatables there's a risk of puncture. Not the warmest or lightest mat these days.
In my experience a fantastic mat for general use, and haven't managed to puncture one in 15 years of misuse!
Base camp inflatables (eg Exped Megamat)
Pros: Usually larger, more comfortable (often wider, longer and deeper).
Downsides: Cost, heavier and bulkier
I've not used one so can't comment specifically, but the idea seems sound, if weight doesn't matter and comfort does eg car camping. Or if you want more than one mat to do different jobs and have money to spare.
Insulated filling inflateables (eg Exped SynMat, Downmat)
Pros: Extra warmth, minimal extra bulk. Extra comfort?
Downsides: Cost, can be hard work to inflate, heavier, bulkier than some alternatives. Risk of puncture.
With the Exped Syn7, I found this was significantly warmer than the classic Thermarest, but could still give some cold spots to someone with bony hips that sleeps on their side. Also takes a fair bit of effort to inflate!
Technically Insulated inflateables (eg neo-air X-therm)
Pros: Excellent warmth, low weight, low bulk. Easy to inflate, no cold spots.
Downsides: Cost, puncture risk, and depth can be an unexpected issue in a low headroom tent!
I've been using the Neo-air X-therm for just over a week now (7 nights) and if anyone's cracked it, these folks have. Easy to inflate, lightweight, small bulk and warm with no cold spots.
That's the one that's going to Patagonia with me.