21degrees today – what a change from just a couple of weeks ago when I was cycling in Arctic conditions while reccing some routes for my forthcoming Peak District cycling guidebook!

But the warm temperatures have really brought some of the bluebells out here in Derbyshire. Today I went on a recce of a few additional locations to the ones I normally visit in spring and although a couple were disappointing, one was utterly stunning. I started out near Oakwood, in some local woods that I thought ought to be good for bluebells. Sadly although the bluebells were out there, actual flowering bluebell stems were rather thin on the ground, and struggling somewhat against the brambles. Not the best place for photographing them. I also felt rather out of place as I reckon I must have been the only person without a dog in the hour or so I spent there! But there was a bonus – I may not have seen a good display of bluebells here, but I did see a woodpecker! I've never seen one before, and today's sighting was only brief – it was far too flighty to get on camera, but just for a couple of seconds it was very distinct with its bright red head against a tree trunk.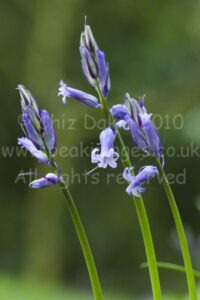 So onwards to Dale Abbey. Now this is a place I've known about for a long while, but never quite managed to get there while the bluebells are out. Its got a great reputation for wide vistas of bluebells – even bluebell carpets. But the bluebells were also quite elusive here today. There were far fewer bluebell plants than I was expecting, and those that were flowering appeared to be the early flowering bluebells of the patch. It was interesting looking at the Hermit's cave on the way, but eventually I found a small patch of bluebells beyond this that were worth stopping a little while for. There weren't really enough bluebells in one place to do much of a wide angle shot, so it became a real macro photography fest. I ended up focussing on three flowers close together, and then one flower all on it's own beside a mossy bit of log.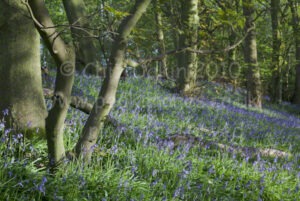 But I was really after some wide angle views of bluebell carpets, and this location wasn't giving them to me! So onwards to another location that I've been intending to visit for a while. This one I'm keeping a little bit secret, as it was awesome! It takes a bit of time to get to, and at first you wonder if it's worthwhile, but then you round a corner, and come over the brow of a hill, and the view in front is literally stunning. It seemed to be wall-to-wall bluebells across a wide expanse of hillside. These bluebells are definitely at their prime and are giving a great density of flower to ground! The trails wander along the top and down the hillside, but the area is large enough that several photographers could enjoy this place at the same time without being in each others way. It's a shame I can't say the same about the parking, which seems very limited, but I'll be looking to see what alternatives there are.
As this location is in such good display right now, my next few bluebell trails will be running here. Apologies to those who would like them to be closer to Derby, but I think when you get there, you'll agree it's worth the extra distance!