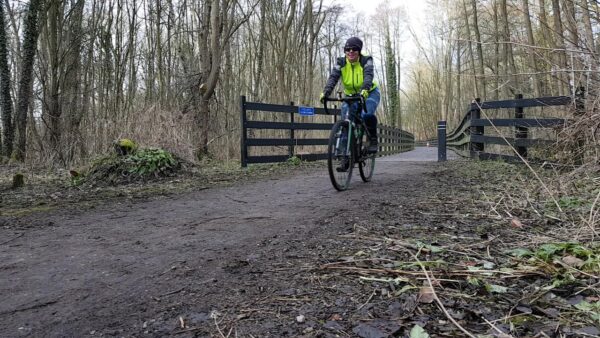 The long-awaited Matlock to Rowsley cycle path is now complete and open for use. The Tour de Peak District route now follows this (with the old route, as described in the guidebook, a hilly but still worthwhile alternative).

Revised route description for the new start to the Tour de Peak District:
From Matlock Railway station, exit through the car park and left onto the cycle track running alongside Derwent Way. Cross over Cawdor Way (entrance to Sainsbury's) at the toucan crossing, then continue on the cyclepath past the island where the old Bakewell Road rejoins Derwent Way, heading north towards Bakewell beside the A6. Just after the Premiere Inn (right) turn left into a small car park and on a cyclepath down across the railway track. This bends right to run beside the rail line almost to Darley Dale. As the path diverges from the rail line it takes a small rise then descends to run beside Old Road. At its end, rejoin the road, heading left towards a crossroads.
Turn right at this (on the road) and down to Whitworth Park.Turn left through the gate, the cycle route now does a complicated wiggle (follow signs on the ground) to avoid a pedestrian-only bridge under trees, before heading north. This runs through grassy park, wiggles left then right, then past the back of houses to the level crossing on Church Lane.
(NB An alternative avoids faffing with Whitworth Park – cross directly over at the crossroads onto Church Lane, then turn left to rejoin the cyclepath just after the level crossing).
Cross the road by the level crossing at Church Lane, then follow the cycle path beside the rail line, then past an industrial area at the back of the Peak Rail works. it bends briefly uphill through woodland, then exits onto Harrison Way. Cross over (NB beware traffic heading for the recycling centre as you cross this) and pick up the continuation cyclepath. This runs through woodland and over a short section of boardwalk to gain a small car park at Rowsley. Exit this onto a short side-road, then left onto the A6 to rejoin the original Tour de Peak District route.
Interactive map showing the new route: