This article is about my trip in 2009 across Los Tres Miles – a long ridgeline of several 3000m+ peaks in the Spanish Sierra Nevada.
Last modified on 2016-06-12 14:06:58 GMT. 0 comments. Top.
Friday 26th June 2009
Up early today. I'd like to say I'm excited about sorting things out before tomorrow when I'm heading out into the mountains for 5 days with nothing but my cozy tent, wonderfully snugglesome sleeping bag and enough food to keep me going over 5 days of ridgeline scrambling at the top of Spain. And normally I would be. But not today.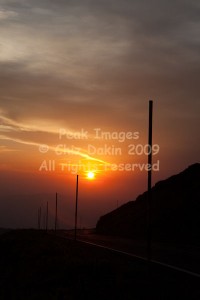 Before I can do anything else, I have to retrieve my car from the wrong side of the mountains. Its at the top of Prado Llano – the ski centre to the north of Sierra Nevada, and I'm in Lanjaron – on the south east. As the crow flies it's just 26km but by car its over 100km round the motorways and up the ski access road. And I haven't even got a car til I get there! How I ended up in this situation is another story (and a fair epic at that!), but a taxi isn't an affordable option over that distance – it would be nearly 200euros! So off I toddle into town – just a few minutes walk away, and investigate the buses. I get confused by the Alsina Graells office – it really IS a pub that happens to also be the ticket office – a friendly English ex-pat that spots my "lost" look confirms it was the right place to buy tickets and tells me where the bus to Granada goes from – the roundabout at the top of town. So 3.66 euros later and shortly before midday I reach the sweltering heat of Granada – roughly halfway there. A quick 10 mins on the internet at the bus station gets me some taxi numbers, and I'm off to find the next bus.
But there are no buses today up the ski road. The only one of the day in summer left at 9am – hours before I found out where the bus from Lanjaron left! In winter there would be loads, but summer is decidedly off-season in these hills. So, no bus and taxi still too expensive (I've still got 38km of ski road plus crossing Granada to accomplish) – the next best option is to find a bus to the furthest village up the ski road. There's definitely a #33 to Cenes de las Vegas, (half way), there may be one to Guejar Sierrra, but there's no information as to where to catch it from and when it goes. I'm now another 1.20 euros down and its roughly a 1.5 hour journey. Last stop on the route is the Palisades hotel and restaurant. The driver has to tell a few of us that its the end of the line, but does confirm that the bus to Guejar Sierra goes from here and some locals at the parada (stop) say its the browney coloured bus not the red one that I'm looking for and I have to flag it down to make it stop.
By 2:15pm I'm another 1.30 Euro poorer, but I'm within 20km of my car, and now the taxi option becomes affordable. Good thing too really – I can't get any nearer by bus. But there's a sudden sting in the tail – Guejar Sierra must be the only village with tarmac that doesn't have taxis. At first I think that it's a local trying to con me, but asking around in different places within the village it seems it's true. That perhaps explains why out of 4 taxi numbers I had, 1 isn't a taxi at all, 1 fails to answer and two claim to not understand me when I say Guejar Sierra… My only option turns out to be a local college student who's heading up the hill at 5pm to play football. I've always been wary of hitching, but there really is no other option if I'm to retrieve my car today – and he seems to be known by several of the old guys in the village that I sit down in the shade with while I wait. Of course, my lift only goes to the bottom of Prado Llano (but its 15km I couldn't have done on my own!) leaving me with 6km and 500m of ascent.
I finally reach my car at 7:30pm, more than 10hours from the start in Lanjaron but at last the feet can escape from the walking boots into my slipper-like trainers! And now I've retrieved my phone charger (also in the car) I can finally get in touch with Mike, my guide, about tomorrow's route – the Los Tres Miles!
Last modified on 2016-06-12 14:06:24 GMT. 0 comments. Top.
Sat 27th June 2009
Having sorted my final problem from the epic (returning the hire car to Granada, then me to Lanjaron) we can finally set out. Having a car's been really great during the last couple of weeks, but retrieving it and returning it had become a real millstone. But I make it back with just time for a quick stop at the apartment and call Mike.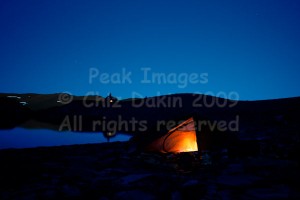 He's managed to arrange a lift part-way up the mountains at 2pm from the Gecko Bar. He suggests I leave my rucksac at the apartment and we collect it on the way past. Great I say – that means I can leave my walking boots off til then too! He must have been wondering what kind of wuss he was leading out onto the hills for 5 days hard scrambling – not even wanting to wear my boots for an extra 15mins! Little did he know that at that moment in time I was really wishing that I had at least an extra "rest" day, and that I really wasn't at all sure I wanted to do the route now – especially if it went near what I now now is called "Scary Ridge"! My feet were more blister than foot, and that's not ideal at the start of a route like this!
But the lift all the way up to the Ventura trail head was extremely welcome, saving us 1500m of ascent in 35C heat, especially with our rucksacks at their heaviest. (It's surprising how much 5 days food and the first days water can weigh – and as Mike says "You can never have too much food!). It probably saved my well-plastered feet too! On the way our driver Sue (a local cortijo owner) tells us about the sheer variety of flowers and plants she's seeing this year after the heavy winter snows. She runs guided flora and fauna walks and on the last one they found 15 species that she's never seen before – and has sent off to one of the top botanical University's for identification. We can already see that the broome is being fantastic this year – the hills between 1500-2500m are covered in a bright yellow carpet.
Arriving at the Ventura trail head we don sunhat and shades, 50+ sunscreen (25 is not enough, even on a good English base tan!) and spf-lippy and pick up our heavy packs. I am astonished (and secretly delighted!) that Mike's rucksac is even bigger and a bit heavier than mine! I'd thought my camera gear would outweigh any extra safety/spare gear Mike would carry, but it looks like I've got the smaller rucksac!
We slowly wend our way up the path, which gets very indistinct early on through a patch of conifers. I begin to see why Richard suggests trousers rather than shorts now – aside from the savings in not having to sun-gunge the legs, those conifer needles are spiky! Fortunately we soon pass through them and regain a reasonably distinct route past the Ventura hut. We take the whole path slowly and steadily – it's still an 800m ascent in 20+C warmth from the trail head. The path soon gets rocky underfoot and its a welcome sight to see Cerro del Caballo (the peak of the Horse Rider) looming above. As we cross a small ridge shortly before the Caballo Hut I pause to gather my thoughts – there's a snow slope ahead, and I'm really not keen about them right now. I stop for a drink as a good excuse to get my act together, only to find myself saying all sorts of unprintable things as a rocket jet of water shoots up my nose and everywhere around me! I'm reusing one of those sports type bottles for my water (for the first time in the mountains) – and it seems the altitude has caused a serious amount of pressure to build up in it – releasing a vertical pressure jet once the bit valve opens! Not a good start!
I get myself over the snow slope slowly, one foot at a time, but we can already see before we drop down to the Caballo hut (where we'd hoped to spend the night) that not only is it full, but it also looks like all the cairned flat tent spots are taken too! Mike has never seen it this busy before.
We spend a while looking for a spot that is flat enough, not soaking with melt-water and not too likely to be in the fall-line for any rocks. Its quite late, so we make a quick dinner with glacial lake meltwater (boiled just in case, due to the number of animals and people around) and I get my first taste of Richard's dehydrated pasta. Aside from taking a LOT more water than I'd initially estimated (I didn't want soup!) it lived up to its claims – dehydrated food that tastes like real food (probably because it is!).
Just before heading into bed I set up the tripod for a shot I've been wanting for a long while – that of a tent lit at dusk by a lake in the mountains. Its a bit darker than ideal, and the autofocus won't work in the darkness, so I have to guess on manual focus. But the shot on the back of the camera looks pretty good – I hope it lives up to expectations back on the computer at home!
Last modified on 2016-06-12 14:06:49 GMT. 0 comments. Top.
Sun 28th June 2009
A late start this morning – we don't wake up til 9am – which I'm glad of. I slept really badly last night. Partly it was the cold (it froze overnight, and my 1 season sleepy was only expecting to handle 5-10C overnight) but mostly it was the fear of the dreaded fox. Every movement outside, every rustle of the wind on the tent fabric, a group of cabra (local mountain goat/ibex) coming down to drink at the lake, or those [****] dogs belonging to another group howling at "something" – they all had every sense on instant alert for a fox attack on the tent. Eventually I got up for the loo at 4am, saw the Milky Way in all its glory (light pollution is non-existent here – even so close to Granada) and also saw that the dogs weren't growling at something right outside my tent (as it had seemed inside). I decided that any fox could take its chances now – I really needed sleep.
Needless to say the fox didn't arrive – and although I knew that the presence of the other group's dogs would scare it away, getting my head to believe that after hearing so many rumours of ripped tents was another matter!
We made a leisurely start after breakfast and climbed the scree slopes behind our tents up to the col above Laguna de Caballo. Dropping our rucksacs there, we summitted the first of many 3000m peaks of the trip, and took the obligatory photos. It was quite amazing being able to see all the way down to Granada and the very flat plain it sits in. In my Paramo Aspira top and Asacha trousers, I was pleasantly warm in a temperature that was probably in the high teens. It made us smile thinking of Granada already being in 30+C heat.
Collecting the rucksacs we then made our way along the Tajos Altos, a rocky but easy ridge that crosses a couple of 3000m peaks that don't even have names. (To have so many peaks above 3000m that you can't name them all – what a place!) Water is not plentiful at all on this part of the trek – a complete contrast to the 1-2 day trips I'd been doing between Trevelez and Veleta in the previous week. So when we found an accessible patch of snow near the route, it was time to discover the joys of melting snow for water. It takes a lot longer than Id have imagined – at least 10-15mins for a 1-1.5l pan, and it reduces a lot in volume too – so you have to keep topping it up during the process. As this was for drinking water during the day we boil it for 5mins just to be safe, although its really about as fresh as can be.
Water-bottles topped up, we then continue along the ridgeline, taking the odd detour for some fun scrambling. At El Cartujo I introduce Mike to the fun of geocaching, and am very surprised to be the first to find the cache this year!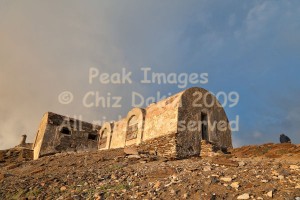 Obviously it's not as popular a past-time here as back in the UK. And then we continue with finding a few more boulders to scramble over. I'm glad for anything that takes my mind off the fact we're heading towards the Elorietta hut – the scene of a bit of an epic a few days ago that lead to my blistered feet and wussyness about snow slopes. I'd been stopping at the Carihuela hut in an attempt to get fit and partially acclimsatised. But that turned into a bigger adventure than I'd anticipated when I'd set out on what looked like a gentle ridge-line scramble towards the Elorietta. Only to discover that I couldn't cross Scary Ridge (Of course, I didn't know it was called scary ridge then, nor that it was one of those "paths that aren't paths" on the map). And so it was with a great deal of trepidation that I was returning to the Elorietta hut – I'd last got within 50m of it before being forced into a retreat the wrong side of the mountain…
Mike gains another free photography lesson today as we pass some blue flowers that look rather like Alpine Gentians. His puzzlement at me lying on the ground soon turns to understanding when he sees the difference that getting down to the level of the flower makes to the photograph. We're unsure what exactly the flowers are, but their shade of blue is very intense.
We reach a couple of snow patches later today, and I'm still decidedly nervous of them. I cross them very cautiously, planting my poles underneath each foot as it takes my weight – just in case it slides off downslope. I think Mike finds the difference in my speed over rock and snow amusing – but I'm concentrating too hard on not sliding off the slope to watch him as he sits down to wait at the far side.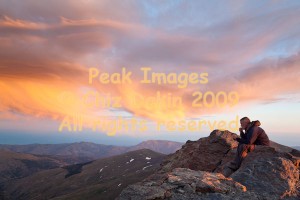 You can see remnants of a marble tiled floor at the Elorietta, and it was clearly once a fairly posh place – according to Mike it used to be an old TB recovery hospital. But now many of the tunnels are filled with snow, the wind howls through open gaps in some of the walls, and the only beds that remain is one set of metal mesh bunks. However, there is a section that has all its walls and roof intact, and now sports a couple of red crash mats from the ski-slopes – these make a great comfy mattress and being able to shut the door on any potential fox is a great benefit. Despite my fear of returning to the hut I couldn't quite reach, it's a welcome haven and I think I might actually sleep well tonight. Especially after being treated to a fantastic sunset – amazing shaped clouds and gorgeous colours – there was even a small rainbow at one point hovering near Veleta.
Last modified on 2016-06-12 14:07:16 GMT. 0 comments. Top.
Mon 29th June 2009

I was right – I did sleep well in that hut. No fear of foxes there with the door shut! Its cold in the morning and neither of us are keen to leave the warmth of our sleeping bags. Somehow we get onto all sorts of heavy topics of conversation including whether other countries should follow Amsterdam's example and legalise drugs! Far too serious for before breakfast, but setting the world to rights means we get an extra few minutes in the warmth of our sleeping bags!
It's another lovely sunny day again today too – I've been really lucky with the weather on this route so far. Today we set out along the route I should have taken (rather than Scary Ridge) along the Tajos de la Virgen. In doing so we miss out no less than 7 unnamed 3000m+ peaks! But I'm not going near that ridge again – and apparently the Los Tres Miles rarely goes over that route – it's just too hard (hindsight is a wonderful thing – now can I have it in advance please?!!).
We follow a fairly easy-going path around the mountain, with no scrambling detours as yet today. Shortly after the ski centre comes into full view below us, the path heads steeply downhill over a steep snowfield. This is the one that I'd previously seen from a distance and decided wasn't clever without an ice axe – and so opted for Scary ridge instead! So obviously I was really looking forward to this crossing!!! We actually managed to avoid the very steepest first bit with some judicious scree scrambling – including one particularly awkward step down. (It would have been fine with just a small pack – but the full packs had a tendency to try and throw us off balance awkwardly). Then it was slowly and cautiously across the snow – I was glad when there became a small ridge between us and the steep slope – only 3inches of foot-trodden snow – but it made all the difference psychologically.
When almost at the low point of this route I comment that I don't recognise this part of the trail. Mike suddenly realises that we've ben so busy chatting that we're now just following some random bootprints in the snow, rather than the correct path. He heads off left to rejoin the path, but I reckon that there's a good way out following the prints that might involve a small bit of easy scrambling. 5 minutes later we rejoin each other on the main path – me grinning as my route worked out and did indeed have some good scrambling. Mike debates whether to boil some more snow – we're both running low on water as there's been none flowing since our snow-melt yesterday – but we find a small trickle coming out of the snowfield that tastes wonderful. That'll do for the climb up to the Carihuela hut!
It's not really long, but it's fairly dry and dusty – with only a few small snowfields to break the well-worn trail through the scree. I'm amused to see that my footsteps of four days earlier have well and truly disappeared – no wonder I'd been puzzled at the lack of footprints generally over the snow – it seems they don't last long before the wind smooths them over. We arrive at the hut in time for lunch, it's almost deserted except for one young Italian lad writing in the hut journal. Time for some more malt loaf and dried apricots for me – I'm beginning to get slightly jealous of Mike's hot lunches (basically the same ingredients as dinner again) – and today's is smelling particularly enticing. I'd not gone for hot lunches to save on the amount of gas being used and the weight. I don't normally bother on day trips anyhow – but the effort we were putting into this trip, it began to seem a very sensible and welcome idea!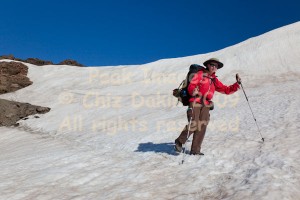 After lunch its an easy descent and contour along the old summit road towards the Caldera Hut. Descending the short snowfield below the Carihuela hut I'm amazed to see how much the snow has melted even in four days. But the waterfall that provided such good drinking water last time I walked this road is still flowing well – I get soaked filling my bottle again, but it's only 5 minutes before my Paramo trousers are bone-dry again in this arid heat – they really are quick-dry!
Stopping to take a photo I forget my poles – and only notice nearly a km later. Doh! Back to get them, Mike laughingly asking me to look for my head on the way too! Further down the track we stop to see inside the Loma Pela hut. It looks a useful bivvy hut – just 8 sleeping spaces and a table, but would be very useful for an emergency. Apparently it's warmer than the Caldera when windy, but the roof leaks! It provides a very welcome stop to re-plaster some of my blisters though – Mike seems a little worried that my feet may not make the rest of the trip, but I assure him that they just need a little more padding!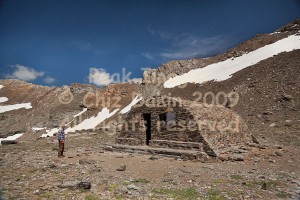 All too soon we're up by the Caldera hut, and the start of the long slow slog up the scree track to the summit of Mulhacen. The highest mountain in mainland Spain (only Mt Teide in the Canary Isles is taller), it's a little over an hour's slog to gain the final 400m of ascent from the Caldera Hut. And this time (being late on a Sunday) we've just about got the mountain to ourselves – a complete contrast from the previous Saturday afternoon when I climbed it "on my own" (in reality – with 50-60 other folks on the summit ascent) from the Poquiera Hut. The light is pretty good, but I'm aware that its still a long descent to Siete Lagunas and its already nearly 7pm.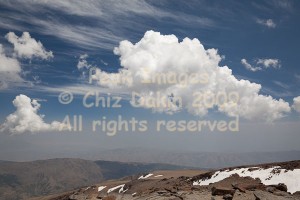 Following the ridge line towards the second summit of Mulhacen, we turn left by a natural stone circle – the white rock at it's centre looking rather like a trig point. We hug the edge of the crag-line above Siete Lagunas for a long way, then finally descend near to the largest of the seven lakes – Laguna Hondera. This is to be our campsite for the night, and we set about making dinner – we're starving! But I'm temporarily stumped – half way through rehydrating my bag of pasta I think the stove has gone out in a gust of wind. Unfortunately it was worse than that – the snow melting has used up far more gas than we'd expected, and far from doing 4 nights cooking with ease, my gas canister is already empty! This is rather worrying as Mike was concerned at the start that he'd be running low on petrol for his MSR stove by the end of the trip – and now we'd both be relying on just his stove. It seems 250g of gas just isn't enough – no matter how quick your evening meal cooking is!
A short while later, Mike has a few choice words to say in the direction of a pale white cow, complete with clanging bell, that starts to descend from the cliffs above – he's not impressed with the idea of a clink-clank herd clanging away overnight. But fortunately it's friend doesn't yet want to descend the slopes so his thoughts of a peaceful night's sleep get a reprieve for now.
Having slept so badly when camping the first night I resolve to lay out my new fox deterrent. I'd heard that they were particularly troublesome at this campsite before leaving home, and did some research as to what animals in general, and foxes (and cats and dogs) in particular, don't like. I discovered that diesel oil, pepper and camphor (mothballs) were particularly disliked. Diesel oil was a non-starter for backpacking, but ground black pepper is easy to get hold of in any supermarket, and is light, biodegradable and easy to carry in a ziploc plastic bag. Camphor oil was harder – but I had an inspired thought – there's one particular brand of ear-drops that has a very pungent smell – and it turns out this is based mostly on camphor oil. Spreading a trail of pepper around the tent with 8-9 drops of ear-oil should keep that fox at bay!
Stopping up late to try and get another lake-side dusk photo, I am startled to see a dog-sized shape slink past me. The fox! I shout at it, and it scuttles away. Contrary to reports I'd heard earlier, it's incredibly timid, but better still – despite an open door and food inside, it has ignored my tent completely! A shout a few seconds later confirms its tried Mike's tent, and been sent packing very quickly. Greatly reassured by both the apparent success of my deterrent, and the timidness of the creature, I have a suspicion that we'll not have any more trouble with it tonight. In fact the only animal trouble we get is a return of the clink-clank herd coming to drink from the lake early in the morning.
Last modified on 2016-06-12 14:07:27 GMT. 0 comments. Top.
Tues 30th June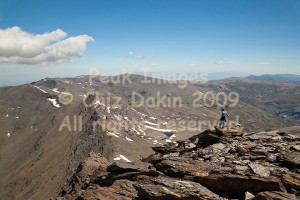 After another leisurely breakfast, we pack up and head round the lake towards the scree slopes at the far side. We're now heading into much more remote territory, with Alcazabar being our first mission of the day. Alcazabar is apparently one of the most talked about mountains of the Sierra Nevada – it's the one most people would like to climb, but surprisingly few folks actually do. Mike thinks this is because it absolutely can't be done in just one day – no matter how long – and the fact that people have to camp out for a night puts a lot of people off. Which is both a shame (for them) and a bonus (for us!). We climb up easy scree on the Lomo de Culo Perro, and drop our bags once we gain the ridge. Despite being marked on the map, there is definitely no way off the far (NE) ridge of Alcazabar and we'll need to return the same way.
Pockets stuffed with a drink and snack, and camera round the neck, we set off again. Its much easier going than I expect, having read about evil scree chutes that have serious objective danger (ie risk of stonefall) from above. This doesn't seem to be the case here – perhaps that only applies to the southern-most flank. Aside from being hard work due to the altitude and uneven ground, its really not that difficult an ascent – Mulhacen was far worse in terms of scree-slog! – and we reach the summit almost before I realise it. But despite being late morning, we have the summit to ourselves, and the region now really begins to feel quite remote.
We drop quickly back down the scree-slope to our bags, and set out on what looks like a long detour around the Loma de Alcazabar. Below us we can soon see a couple of waterfalls and very green grass in a deep valley besides them. It looks a long way below, but we have to descend that far to escape the northern side of Alcazabar. Descending is painful on the blistered feet, but the thought of fresh stream-fed glacial meltwater at our lunch stop spurs me on. We stop by the Barranco del Goteron, and Mike's hot dinner once again smells so good that I want to pinch it!
Leaving our lunch spot, I ask if we're following the stream uphill. We are, so I decide to delay filling my water bottle just yet – planning on filling it a bit further uphill, and saving the weight on the first bit of the climb. Mike doesn't promise that water will be available further up, so I make sure I have a good drink before we leave, but if we're following the stream it should be obvious when it runs out… or so I thought. Some distance uphill, about where the gradient eases, I start to get a bit antsy about whether were going to see the stream again. Mike thinks we will, but I'm getting worried. Shortly after this, before the next steep ascent up the side of the valley bowl, I go in search of water – only to discover its now all locked up in snow – and the trickle I can hear is just an echo from the crags above. Damn – I should have filled up from the dinner-time stream. As Mike keeps saying "Never skimp on water"… I have just over a litre, and I'm very well hydrated after lunch, so we decide to press on rather than going back (its just a bit too far downhill to return now).
At the top of the scree slope we pause to look back at the view – Alcazabar looks impregnable from this angle – and how any map-maker could think there's a path off its north-east ridge seems beyond comprehension! Now the fun starts – the scree turns to boulders, and as they get bigger, so does the enjoyment and challenge. The next km or so may be short in distance, but its full-on serious scrambling – grade 2 or even harder if you wish in places – and the full pack doesn't make it easier! One bit causes a moment's hard thought, as we descend just before the summit of Puntal de las Calderetas. But removing my rucksac and dropping it down the 1.5m awkward step in front of me soon solves the problem. We each take our own path across this section, both of us grinning from ear to ear as we picked our way across boulders up to the size of a small bungalow.
Laguna de Vacares is our planned destination for the night, but this end of the trip is new territory for Mike. Although he's done bits of it before, he's never done this final section as part of the Tres Miles before, (I squeak briefly just to confirm my guinea pig status here!) and having looked at the map, Mike wants to get a little bit further tonight if we can. He's concerned that tomorrow could still be a very long day. Scrambling around the Puntal de Vacares, we have a good challenge route finding – including one part where we have to thread the needle! Mike briefly wonders if he should find an alternative route for 10 cadets he has on this trip the following week – he doesn't yet have any information as to how good their scrambling skills are, and is concerned that if they are too new to scrambling, it might not be ideal to take them this way.
The following section on the east side of the ridge is also quite tricky ground – and we are surprised to see a few flat and stone-walled bivvy spots along the route – the first sign that others have passed this way before us in nearly the entire day. Peering down at the part-frozen lake below, it looks amazingly blue – very inviting if deeply cold. Mike has bivvied on the west side of the ridge before, and we spot a good flat area with plenty of snow to melt – but decide to carry on for another hour or so – just to get a bit of a head-start on the following day. But just in case we don't see any water ahead, we stop briefly for a quick snow-melt to give us both drinking water.
The way ahead now becomes somewhat easier ground. Somewhat as instead of big fun-scrambling boulders, we now have lots of small stones that make for awkward footing on a moderately steep hillside. The way ahead looks very barren, rocky, and slopey, with only spiky grass as a hint of "comfort" for the night ahead. I now begin to get tired, and my feet are decidedly whinging at the effort – I probably asked a bit much of the blisters today. As the hillside drops down into a side-valley at the Collado de las Buitreras, I gain a burst of speed. My feet, shoulders, back, nay – all of me – has had enough for the day, and getting to flat ground below and chucking the tent up is the over-riding priority now.
We camp by an incongruous solar-powered weather-station – it looks very out of place in such a remote uninhabited area, but I guess that's where they're needed! Flat ground is at an extreme premium, and although there's a spring nearby, its barely a trickle, and is surrounded by cow-pats. We're very glad of our previously melted snow!
Tent up, its time to cook, and Mike congratulates me on a big day "by anyone's standards". Even he admits to being fairly knackered, and more than ready for food. I'd been worrying slightly that the last water we gained may not have been too good – my stomach hadn't been feeling too good for the last hour of the route. Mike makes a surprising suggestion – it may just be that I'm starving and my body is trying to signal that its out of fuel! Having eaten dinner, I have to concede he may be right – I feel a lot better for food, and if the water (the usual first suspect) was dodgy, then Mike should be feeling ill too. Which he isn't, and drinking more of the same water overnight doesn't cause problems, so a new lesson is learned – dodgy stomachs can sometimes be cured by eating!!
Last modified on 2016-06-12 14:07:52 GMT. 0 comments. Top.
Wed 01st July 2009

This morning we try and make a determinedly earlier start. We have some success – we're both awake by 0730, and Mike is very quickly packed up and heading off up the slope to melt some snow and have breakfast. I'm a lot slower – before I can do anything I've got blisters to deal with. I'm actually fairly surprised I've managed to keep the feet going as well as they have so far – but they're not happy today, and are making it felt. I'm also running very low on plasters of all descriptions too – when you've got blisters under your toes as well as on top, you have to start getting very creative with the plaster padding!
Eventually I set out, and it feels hard work heading back up the slope to the ridge line. Its not really very far, but for some reason the uphill feels harder work today than the previous four days. I can't see Mike anywhere, and wonder if he's gone to suss out a bit more of the route ahead – but no, he was just sheltering from a slight breeze up on the ridge while waiting for me.
We are in two minds as to which route to take in a few places today – we've just decided to climb up to the Pico de la Justicia and go round the ridge (sans water-filling opportunities) as opposed to dropping further down the valley and up through the corrie where there are lots of streams and a lake or two. We'd already decided last night that we had enough gas for a snow-melt, so the more interesting ridge-line route wins, but the jury was still out on later decisions such as whether we'd be able to get down the steep east slope off Picon de Jerez. Time would tell!
Although it seems to have taken a long time to pack up this morning, in reality we're still two hours ahead of any other day, and with yesterday's extra hour have a good head start on previous days. Though of course it's now time for that enduring debate of whether we saved one hour or two today, with getting an hour ahead yesterday! I'm sticking to just one, but Mike's not entirely convinced, and the debate provides a welcome distraction from the uphill task.
We've got a good crop of 3000m+ peaks today – 6 in total, and some more that don't even manage a name. The going is much easier today though – just small stones on a fairly broad ridge, although like many parts of this route its very lacking in water. We stop for a break at Puntal de los Cuartos and admire the view. We can see right down into Guejar Sierra, and spend a while looking at the map sussing out which peak is which. Picon de Jerez still seems a long way away – its a good thing we started earlier today!Beyond this final 3000m summit, a further 3km away, there's still more than 10km to the end of the trail.
It's getting a little windy now, but the breeze is actually quite welcome – pleasantly cooling on this last part of the ridge. Surprisingly Picon de Jerez is not the highest point on that ridge, but a good 25m below the high point (which has no name!)
Mike goes to see what he can see of the eastern path which we'd like to take as there's much more water on the route down this way, but the slope is convex and we can't tell if its possible to cross the snow patch at the top. While we stop at the top ,a whooshing sound rushes up the hillside. Just briefly a whirl-wind touches down on the summit, kicking up dust in a spiralling corkscrew. Two seconds later and its gone. Its an amazing sight and another reminder of the awesome power of nature.
We set out own the east slope – there's a way just to the left of the snow slope that looks hopeful. We can't see if it goes all the way, but the slopes steepest at the start, so we decide to take the chance. It's quite steep, and the best path is in the smaller scree – its almost possible to scree run down this. We lose height quickly, and the navigation isn't as hard as we thought it might have been. Before long we're at a wonderful lush green hollow – a wonderful mountain spring. We joke how much we could sell this water for in London – and then realise how much it would cost us to ship it there! But it tastes fantastic – even though we've some snow-melt left, it gets ditched here – there's no comparison to the cool and clear spring water.
The next section seems to take forever, and yet is over too soon. I don't want to be leaving these mountains just yet, but my blisters really need a rest! Eventually we get down to the Refugio Postero Alto. It's apparently only open at weekends, so not today (Wednesday) but is the most luxurious "refugio" I've ever seen – more like a 4* country retreat than mountain hostel. Even the beds in the winter emergency room look very comfortable and new – it seems very strange that it doesn't get more use – but I guess it's "only" at 2000m and is still a long way from the nearest 3000m peak.
Shortly below the hut, we get a very welcome lift from Richard and Kiersten. The track's too rough for them to get right to the hut, but we only have to walk a further km or so. I'm sad to be leaving the wilderness behind for a while again, but it's heating up fast as we descend, and the trail is very long, hot and dusty – a lift back to Lanjaron from here was the perfect end to the trip!
On the way back the Castillo de la Calahorra is visible in the distance – it looks an interesting place and I'm sure I'll be back to see it closer up sometime.
Another more recent trip report from Ronald Turnbull can be found here